The Science of Influence through Entertainment
HI launches research blog, The Ripple Effect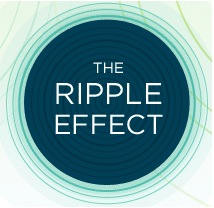 The Ripple Effect, HI's new research blog, officially launched on June 18. The interdisciplinary forum is dedicated to commentary, analysis, and information on the influence of media and entertainment. It's written for the interested public and tackles complex issues with clear, intelligent reporting, backed by strong evidence.
The inaugural post takes a look at the impact of social media on the 2012 documentary Bully, analyzing data from a widely successful Change.org petition that launched the film into the public eye. A more recent post introduces HI Score, a method of quantifying the influence of documentaries over time. Stay up to date on the latest HI research by visiting The Ripple Effect weekly!
---
HI joins PUMA.Creative Impact Award Advisory Committee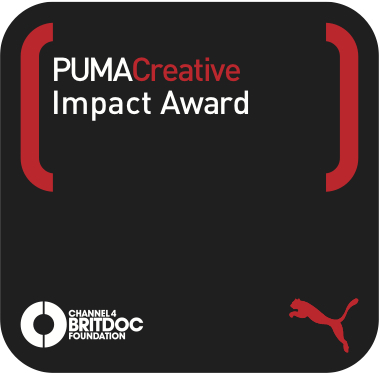 Founder John S. Johnson participated in this year's PUMA.Creative Impact Award Advisory Committee, hosted by BRITDOC, a foundation dedicated to funding documentaries. The PUMA.Creative Impact Award honors documentary films that demonstrate significant social impact. Johnson served on the committee, alongside nine other contributors, assisting in the selection of five finalists that will be viewed by this year's jury, a list that includes actor Danny Glover, and the Executive Director of Greenpeace International, Kumi Naidoo.
---
Preliminary findings from Bully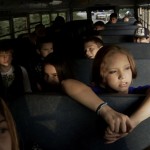 This spring, HI undertook an independent research project to study the influence of the 2012 documentary Bully. As the use of social media continues to grow and evolve, new scientific methods have emerged to help measure the diffusion of information on these networks. HI's applied research has found that the film was able to achieve high visibility on social networks by targeting popular celebrity users with their message. Additionally, HI revealed that Bully posts were "stickier" than the average tweet, remaining active far longer than others in social media conversations. A full report, with strategies for social-issue media producers looking to leverage these networks, will be available in Fall 2012. Much of this research will also be featured on The Ripple Effect throughout the summer.
---
Anti-Speaker Series commences
HI kicked off its first ever Anti-Speaker Series on June 26 with a visit from Sharad Goel. The Anti-Speaker Series asks experts to think through, with their particular analytic lens, how they might go about "measuring the influence of entertainment." HI was thrilled to have Sharad Goel lead this inaugural discussion. Goel joined HI from Microsoft Research, where he's been working with a team seeking to answer fundamental questions around the nature of information and idea transmission. The discussion was particularly relevant to HI's recent work on social networking (see Bully research). A more detailed synopsis will be available in an upcoming post on The Ripple Effect.
If you, or someone you know, is interested in leading a discussion for the Anti-Speaker Series, don't hesitate to email HI!
---
Recent presentations and case studies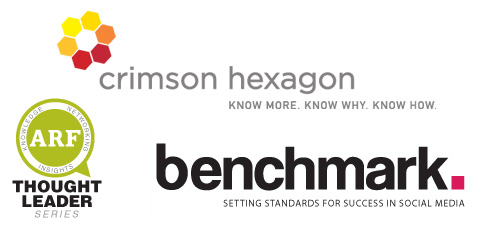 Assistant Director Eleanor Cleverly, and Graham Technology Fellow Clint Beharry's most recent presentation, Lean forward: Measuring and Understanding the Influence of Social TV, has been showcased at industry events throughout NYC this spring. The presentation offers real-time insights into the social media conversations of television viewers, along with preliminary results from neuro-imaging techniques that analyze audience reactions. The research is supported by findings from Crimson Hexagon, an HI partner. Cleverly and Beharry presented Lean forward on May 15 to an audience of television and marketing executives at the Advertising Research Foundation (ARF), as part of their ongoing Thought Leader Series, and on May 9 at the first ever Benchmark Conference, a social media measurement event aimed at sparking conversation between marketing and technology leaders.
Additionally, HI was profiled in a Crimson Hexagon video case study that illuminates the ways HI employs the company's versatile measurement technology.
---
Additions to HI staff
Since April, HI has welcomed three new staff members, David Park, PhD, Brian Abelson, and Sarah Henry. Park joins HI from Columbia University, where he currently serves as Director of Special Projects at the Applied Statistics Center. At HI, he will serve as Senior Research Fellow, tackling the classification and definition of success in social impact media. Park holds a PhD in Political Science from Columbia University, and a BS in Aerospace Engineering from the University of Maryland.
Abelson joined HI in May 2012 as a full-time Research Analyst. He holds a MS in Quantitative Methods in the Social Sciences from Columbia University, and a BA in Politics from Whitman College. Currently, Abelson is working to refine a methodology for measuring a documentary's reach via Twitter activity, Google searches, and press mentions.
Henry, who joined HI as a Research Analyst in May, is a graduate of The Gallatin School at New York University where she explored behavioral analytics, game theory, economics, and cognitive psychology. She is currently working on case studies for HI's recent and more established clients.
---
You follow HI, let HI follow you
As HI builds its social media presence, we'd like to ask for your Twitter handles, Facebook pages, YouTube Channels, and other social media identities to increase the opportunity for communication and collaboration. Reply to this newsletter with your social media addresses and we'll connect with you!